Top 20 Cruise Ships so Big, You Can Never Miss Them
How big is a cruise ship? How big is the biggest cruise ship? What are the best large cruise ships? We have been asked these questions so often, we had to give you answers. We'll tell you why you should try cruising with one of those gigantic sailings, will reveal which large cruise ships are cruisers favorites and finally show you the world's biggest cruise ships so you have a better understanding of the market.
Why choose to cruise with a large vessel?
We get it, they're not just massive, mega vessels are also fascinating! They've kept getting larger in the past decade, proving that bigger is better. Besides that, we understand you might want to choose the best cruise ship size.
Largest vessels have numerous qualities:
They'll help you blend in a crowd, while still finding a spot of your own
They'll have you never meet the same people twice if you like meeting new people
They provide lots of options for dining, activities, bars and clubs
They are vast enough to be family friendly and provide adult only entertainment
These immense ships are likely to have a high passenger-crew ratio ensuring a better service quality
All that's left to do now is check our ranking of most popular boats with the greatest size to determine which cruise ship is best for you and take a peek at the world's biggest vessels to compare the existing market to your tailored needs.
Top 20 large cruise ships you should try at least once
We had to read through more than 180.000 customer reviews to get to this list, but here it is: the 18 most popular large vessels. Click on a ship's name to track the ship's current location, find available sailings and check its average price per day and cabin type.
The ranking is largely dominated by Royal Caribbean cruise line with Allure of the seas, Harmony of the seas, Oasis of the seas and Symphony of the seas from which some also belong to the largest ships in the cruise industry. Norwegian cruise line also appears on the list. However, Royal Caribbean's Quantum of the seas isn't included in large popular cruise ships list.
How big are the biggest cruise ships?
Allure of the Seas, which used to be the largest ship worldwide (225,280 gross tonnage) until 2016 was dethroned by its sister ship from Royal Caribbean, Harmony of the seas (226,960 gross tonnage) which has a capacity of 6 296 passengers and 2 394 crew members.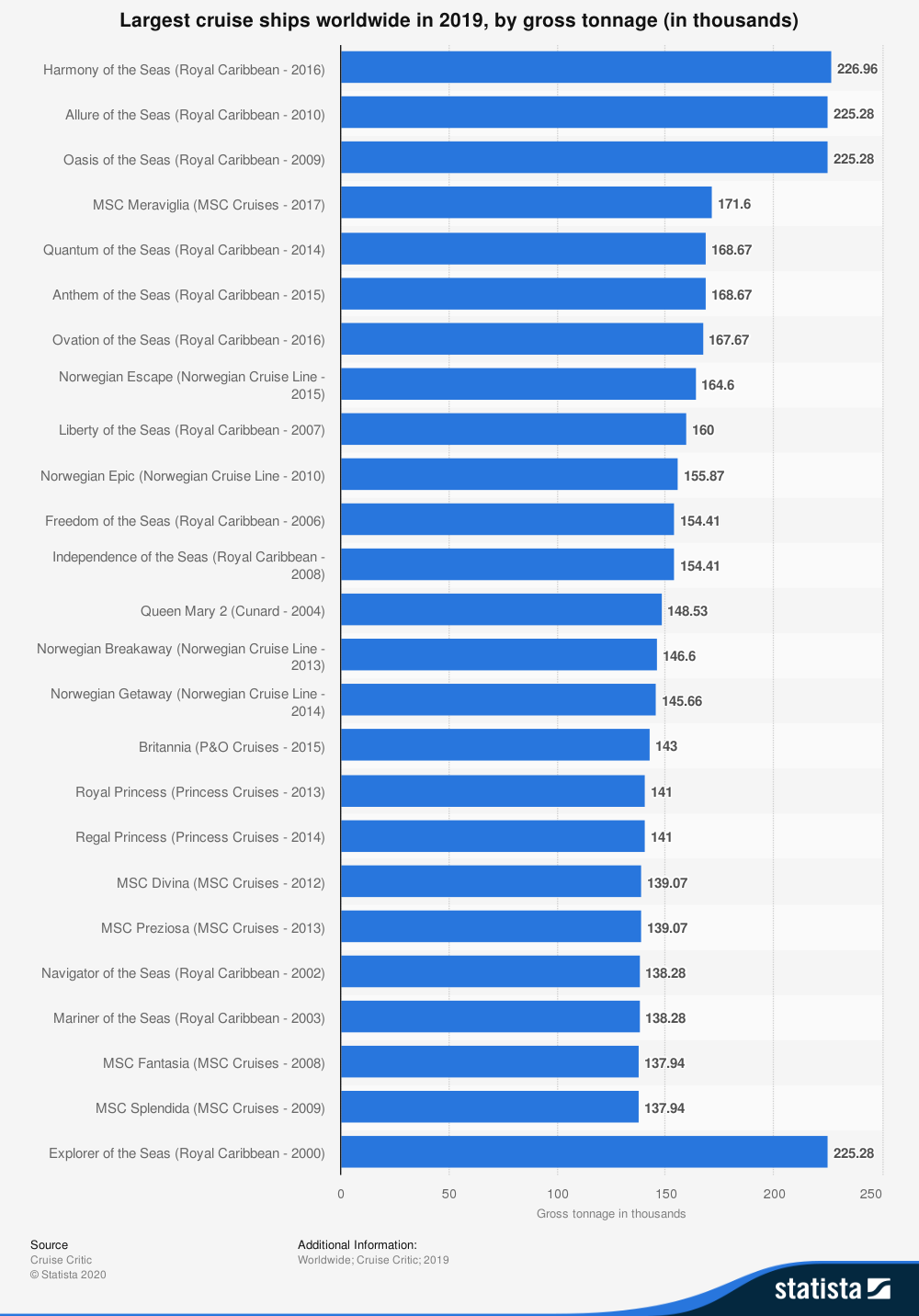 Furthermore, only 4 of the best Carnival cruise ships are included in this list: Queen Mary 2 from Cunard, Britannia from P&O, and Royal and Regal Princess from Princess Cruises. Celebrity Cruise ships are missing from the list, when MSC Meraviglia ranks at the top 4 largest cruise ships in the world.